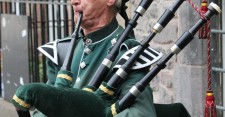 Ticket Deadline is Friday, January 18
RENO, Nev., January 18, 2019 (Newswire.com) - Public tickets to the 38th annual Robert Burns Celebration remain available only until this Friday, January 18.
The January 26 event at the Grand Sierra Resort in Reno is presented by the Nevada Society of Scottish Clans (NSSC) to honor the 1759 birth of Robert Burns, national poet of Scotland, who wrote such notable songs as Auld Lang Syne. Tickets are $62.50 per person, and $30.00 each per child age 12 and under, and include dinner with entrée choice of New York steak, grilled filet of salmon, or vegetable turnover. Tickets can be purchased on-line at www.nvssc.org, or by calling (775) 345-3435.
The event begins with a hospitality room from 4-6 p.m. that will feature Celtic music, an NSSC raffle, and Scottish whiskey tasting. A procession at 6 p.m. will include presentation of colors by the Scottish American Military Society led by music by the Sierra Highlanders Pipe Band, and the past and present chiefs of the Nevada Society of Scottish Clans. NSSC Chief Jackie Frady will welcome participants, followed at 6:30 p.m. by the "Ceremony of the Haggis," a traditional Scottish dish, and recitation of the Robert Burns poem, "Ode To the Haggis," dating to 1796.
The dinner and program featuring the poetry of Robert Burns includes "Toasts to the Lads and Lassies," and presentation of the 2019 Silver Thistle Award to the Scot of the Year. Dress for the evening is "cocktail dress," or semi-formal attire, while many will wear Scottish dress including kilts and sashes of colorful clan tartans.
The Nevada Society of Scottish Clans is a 501c3 non-profit organization dedicated to the perpetuation of ancient customs, literature, music, games and dress of Scotland and its people. Membership is open to anyone interested in Scottish heritage as well as those of Scottish heritage.
For More Information:
Jackie Frady, Nevada Society of Scottish Clans Chief (775) 843-2812
Source: Nevada Society of Scottish Clans (NSSC)
Share: