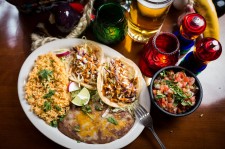 Northern Nevada's first Mexican Restaurant and one of Reno's oldest eateries
Reno, Nevada, April 11, 2017 (Newswire.com) - It's time to celebrate all things Mexican for Cinco de Mayo, and what better place to say Ole! than Miguel's Mexican Restaurant, serving fresh, authentic Mexican food in the heart of Reno since 1959. Miguel's will be dishing up much more than authentic food during the special celebration that commemorates the Mexican Army's 1862 victory over France at the Battle of Puebla during the Franco-Mexican War. Grab your Sombrero and join us on May 5, starting at 11 a.m. at either of Miguel's popular locations for food and drink promotions, giveaways, music, and much more.
Date & Time: Friday, May 5, 11 a.m. – 10 p.m.
Address:
MIDTOWN - 1415 S. Virginia St., Reno, NV - (775) 322-2722
The Summit Reno - 13901 S. Virginia St., Ste. 212, Reno NV - (775) 851-0550
Nevada has plenty of South of the Border options from top-notch margaritas to authentic tacos and house-made salsas, and here in Reno we encourage you to do up el día right at Miguel's. Known for its fresh, award-winning Mexican dishes, and some of the most authentic Margaritas in the area, Miguel's continues to be a family-owned and operated business, as well as northern Nevada's first Mexican Restaurant and one of Reno's oldest eateries, since 1959.
This Cinco de Mayo will include a number of food and beverage offerings, along with special promotional giveaways to guests. Miguel's authentic and traditional menu boasts 26 favorite combination plates including tacos, enchiladas, chili rellenos, tamales, taquitos and chimichangas in beef, pork or chicken; which are served with traditional beans and rice. In addition, diners can also enjoy a variety of seafood, specialty burritos or enchilada dishes. Not to be forgotten, Miguel's House Margaritas are served blended or on the rocks in lemon-lime, guava, melon, peach, strawberry or mango. Guests are encouraged to try the newest Margarita addition; the Jalapeno Margarita a spicy and sweet option for those on the adventurous side.
After 50 years, the family at Miguel's expanded its original, award-winning recipes and service into a second Reno location at The Summit Mall, making it a great addition to the already popular MidTown restaurant.
"The Summit is a vibrant shopping destination, which makes it an ideal location to bring our time-tested and award-winning menu," said Miguel's Owner Elmer Figueroa."
With two exceptional locations to choose from you can celebrate with festive food and specialty margaritas throughout the day and enjoy family-friendly service in a warm and traditional ambiance.
Miguel's is open Tuesday through Thursday 11 a.m. to 9 p.m., Friday and Saturday
11 a.m. to 10 p.m. and Sunday's 12 noon to 8 p.m.
For more information on Miguel's visit miguelsmexicanrestaurantreno.com, or call (775) 322-2722 or (775) 851-0550
Source: Miguels
Share: