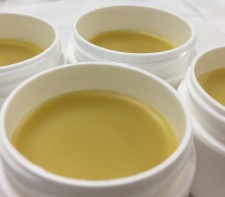 Patients across the state will now have access to Kynd's medical all-natural Cannabis infused Healing Salve.
Reno, Nevada, October 24, 2016 (Newswire.com) - Kynd Cannabis Company, a leading medical cannabis and concentrates company based in northern Nevada, is proud to announce the release of Kynd Balm, its first topical product infused with CO2 extracted cannabis oil. Kynd Cannabis Company will begin delivering their newest product to dispensaries throughout the state in October 2016.
"We're very excited to launch this new product line in time for the holidays," says Mark Pitchford, Co-owner Kynd Cannabis, "Kynd Balm is for anyone curious about the non-psychoactive healing benefits of cannabis," adds Pitchford.
Our new topical lines begin with Kynd Balm, but we will quickly expand into more skin and body care products in 2017

Scott Dunseath, Co-owner and Vice President of Marketing
Kynd develops a full line of pharmaceutical grade cannabis based medicinal products from edible tinctures and capsules to pure, high-potency hash oils and vape products extracted using supercritical CO2 fluid instead of hydrocarbons like hexane or butane. CO2 is regarded as a "solvent-less" extraction methodology and seen by many as the future of clean cannabis extraction.
"Our new topical lines begin with Kynd Balm, but we will quickly expand into more skin and body care products in 2017," says Scott Dunseath, co-owner and Vice President of Marketing. According to Dunseath and Ryan Clendenin, Kynd's Director of Production, the company is currently underway on research and development on several therapeutic massage and personal care formulations that they hope to launch in the early part of 2017.
New cannabis research is being published every day on the special relationships between the cannabinoids and other alternative medicinal botanicals states. "With a 2:1 ratio of CBD to THC, Kynd Balm takes full advantage of the entourage effect and supports healthy cell growth while delivering targeted pain relief to deep muscle aches and rheumatic joints," states Clendenin. Kynd Balm will be available across the state of Nevada at fully licensed retail medical marijuana facilities.
About Kynd Balm
Kynd Balm is specially formulated to address a wide range of skin, muscle, and joint health issues; Kynd Balm supports cell production, anti-inflammation, and vasodilation for faster healing. Kynd Balm is not intended to be a psychoactive cannabis product. Combined with 14 organically sourced, time-honored homeopathic essential oils and plant butters, Kynd Balm brings all-natural healing to a higher level.
About Kynd Cannabis Company
Kynd Cannabis Company boasts a team of seasoned industry professionals with over 70 years combined cultivation and production experience. Kynd cultivates flowers that champion the healing power of medical cannabis and have been tailoring high-potency strains for over a decade. The leading Kynd cannabis extraction based product line has been specifically developed to meet the widest variety of patient needs. Offering both CBD and THC dominant strains while carefully crafting hash oil products driven by clean extraction methods using supercritical CO2.
For more information on Kynd Cannabis Company visit kynd.com, or email mailto:cara@washoewellness.com.​
Source: Kynd Cannabis Company
Share: