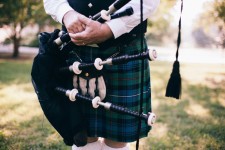 Annual Tartan Day charity fundraiser features authentic music, food and revelry
RENO, Nev., March 30, 2018 (Newswire.com) - A lively celebration of Scottish American heritage, the 2018 Tartan Day Ceilidh promises to bring together the tastes, sounds, kilts and cheer honoring festive cultural ties while supporting those who are serving or have served in the Armed Forces.
WHAT: 2018 Tartan Day Ceilidh
WHEN: April 7, 2018, 4:30 to 9 p.m.
WHERE: VFW Red-White-Blue Bunker
3675 Baker Lane, Reno
TICKETS: $10 (pre-paid or at the door)
Featuring famed Celtic band Plastic Paddy and music and dance performances from the Silverstrings, Sierra Highlanders Pipe & Drum band and the Silver State Scottish Country Dancers, attendees will be reeling and jigging all night! Enjoy traditional bangers, burgers and potluck, pipers, the Bonnie Knee Contests, raffles and an open mic at this charity fundraiser.
Event proceeds will support the Scottish American Military Society in their effort to honor veterans of Scottish ancestry who have served –– or are serving –– in the Armed Forces of the United States and the Commonwealth. Membership is open to honorably discharged veterans or active duty or reserve military persons who have served or are serving with any branch of the United States or Commonwealth Armed Forces.
To find out more about the 2018 Tartan Day Ceilidh, contact Vaughn Moncrieff at 775-303-1517 or unrmucker@gmail.com.
Scottish American Military Society is a 501(c)19 non-profit veterans organization founded and chartered in North Carolina in April 12, 1981. With a mission to preserve and promote Scottish and American Armed Forces customs, traditions and heritage, 97.5 percent of members must be present or former military members. For more info visit s-a-m-s.org.
Source: Scottish American Military Society
Share: