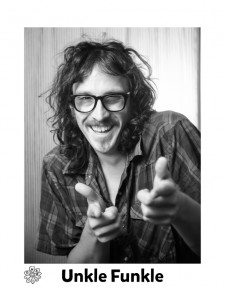 Get groovy on January 20 at the Brewer's Cabinet production facility with Legendary Reno band Unkle Funkle.
Reno, Nevada, January 16, 2017 (Newswire.com) - Get Funky and enjoy craft brews this January during a special performance by legendary band "Unkle Funkle". Guests can enjoy live music, great craft beer and delicious food trucks on-site making for the perfect combination to rock the night away in the Biggest Little City.
Date & Time: Friday, January 20, Brewery opens at 3 p.m., Band performs at 7 p.m.
We really play off the crowd, whatever the crowd seems to be vibing on; we usually stick with that sound.

Joe Grissino, Front man and lead guitarist
Location: The Brewer's Cabinet Production Facility: 8565 White Fir St., Bldg. B 1A
Cost: NO COVER / 21+
In August the Brewer's Cabinet opened its doors to the public offering Single Canned beer starting at $2, Cases of beer starting at $20, and Kegs starting at $65. The facility allows people the chance to become familiar with the brewing process, the friendly staff and the iconic flavors they have come to enjoy in all of the BC brews. The Brewer's Cabinet focuses on spreading awareness of the local brewing community and this event is a perfect example of that. A portion of the proceeds from the evening will benefit The Nevada Literacy Program, based in Reno, Nevada committed to helping our students grow in all aspects of life.
ABOUT UNKLE FUNKLE
Unkle Funkle is the perfect recipe made up of the edgy sounds of blues guitarist Stevie Ray Vaughn and James Brown with a hefty side helping of original tunes that epitomize the jam band concept.
Unkle Funkle is a Los Angeles based composer, producer, and multi-instrumentalist known for his surreal approach to writing, producing, and performing his vast, cross-genre catalog of original pop music as well as his covers of hit songs ranging from R. Kelly and Celine Dion to Queen and Colleen Green, with whom Unkle Funkle recently produced a new EP for Infinity Cat Records. A music scholar having studied at Berkley College of Music and the University of Oregon, Unkle Funkle brings a classical training in voice, composition, and guitar to the table while still maintaining an outsider aesthetic and freak-ingenuity.
As lead guitarist for Chunk-Rockers White Fang and their sister band The Memories, Funkle has toured extensively across North America, Europe, The United Kingdom, and Australia alongside world-class acts such as The Thermals, The Growlers, The Coathangers, YACHT, togetherPangea, Gap Dream and more.
The trio comprises front man and lead guitarist, Joe Grissino, bass guitarist Gregg Noonberg, and drummer and percussionist "Fletch" Fletcher. The three longtime friends developed a chemistry touring the country as members of Cosmic Freeway.
"We really play off the crowd," Grissino said. "Whatever the crowd seems to be vibing on, we usually stick with that sound."
ABOUT BREWER'S CABINET
Home of the original Tahoe Beer Series, Brewer's Cabinet is a brewery and rustic eatery offering a menu filled with unique craft beers paired with brewpub food using fresh local ingredients. Nevada proud, we are locally owned and operated with an ever-growing distribution footprint throughout the Sierra. At Brewer's Cabinet, we strive to brew creative suds with authentic flair and flavors.
For more information on the event of Brewer's Cabinets visit www.thebrewerscabinet.com, or call (775) 348-7481
Source: Brewer's Cabinet
Share: